Trade Show Booth for Design Milk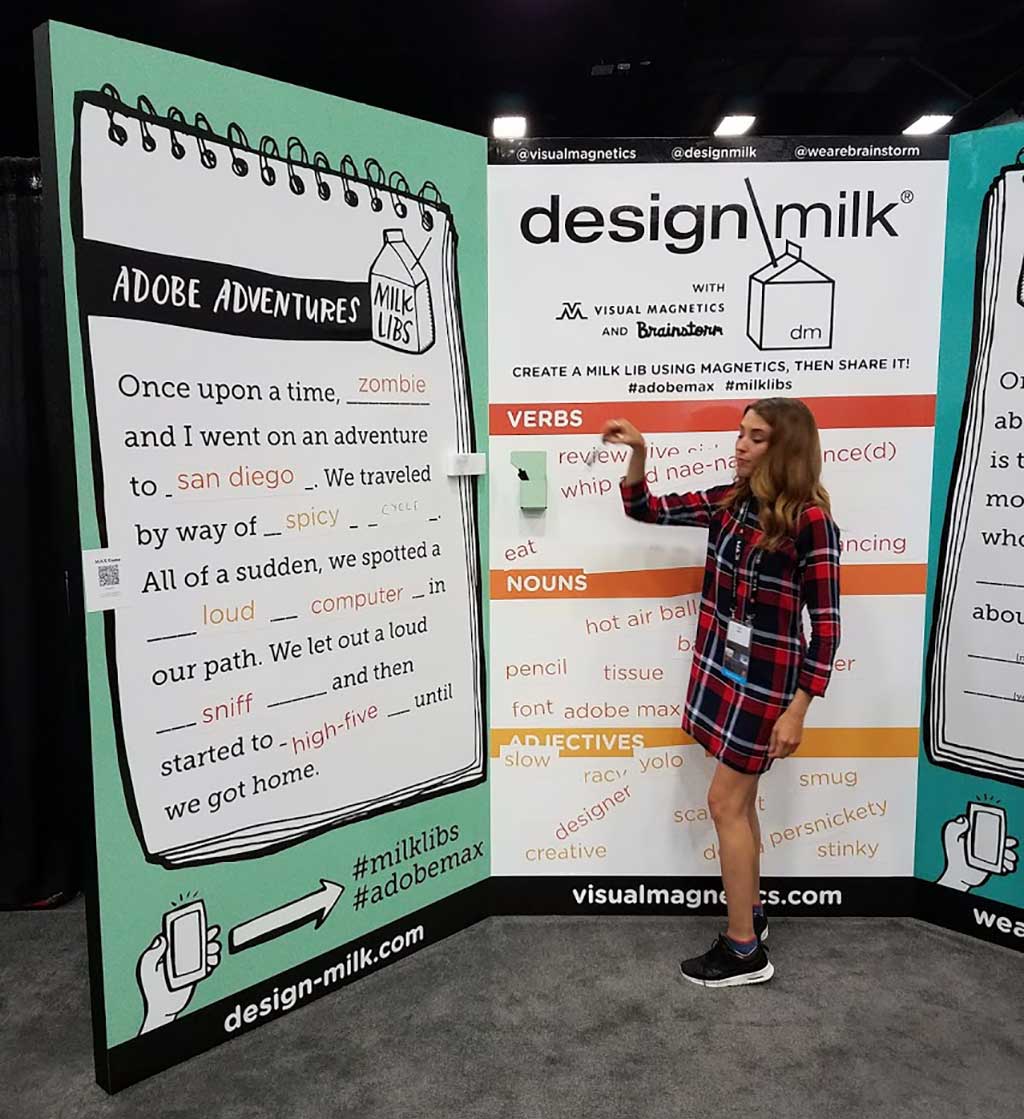 In November 2016 we collaborated with Design Milk and Visual Magnetics to create their trade show booth and kiosk at the annual Adobe Max conference in San Diego. The interactive booth was designed to engage attendees and introduce them to the Visual Magnetics medium and Design Milk site.
We created a "milk libs" concept that was a take on the traditional Mad Libs word game. Attendees could use the printed magnetic words to swap in their own nouns, adjectives, and verbs to make an often hilarious story and share it on social media using custom hashtags.  
Each wall panel measured 48" x 95" and was completely covered with printed Visual Magnetic sheets making the entire booth magnetic. The center panel had pre-determined verbs, nouns, and adjectives the attendee could peel off and place on either "milk lib" to create their story. Blank magnetic tiles with dry erase markers were also provided to allow for custom words. The "milk libs" story templates were collaboratively written by Design Milk and Brainstorm and focused on the Adobe Max conference and Adobe Adventures (traveling to California). 
Client Metrics
Sign up list increase - approximately 1.3k new contacts

Responsive list of industry-relevant contacts

50% open rate for follow-up email marketing (over double industry standard)  

Top-tier client inquiries + look book requests 
Social Metrics
500+ views of promotional video across VM social media accounts

35k views of promo video on DesignMilk Instagram 

1.5k views of promo video on DesignMilk Facebook 

6k instagram likes on the kiosk Design Milk pattern

Spike in web traffic during the days of show 

Consistent coverage on Instagram stories + reposts from visitors 
Reception Metrics
Brainstorm/s playful design was a perfect fit for the concept of word play intended for MilkLibs

The dry-erase graphic upon entrance to the booth also provided an interactive surface for coloring and drawing

Color coding of word categories – verbs / nouns / adjectives helped create an approachable and easy-to-play game

Booth presentation was much less traditional than others, and effectively drew in prospective clients 
 
Adobe MAX is the world's premier creativity conference. Every year MAX brings together the world's top creatives and best-in-the-business experts to learn, share, create, connect and play. 
Design Milk is an online magazine dedicated to modern art and design. It has been featured in the Los Angeles Times, Time Out New York, The San Francisco Chronicle, was one of the Google Reader Engineers' Staff Picks. With a combined social media following of over 4 million it is one of the most influential design sites on the internet. 
Visual Magnetics
 is a materials innovation company focused on transformative, magnetic surface design for walls. Visual Magnetics' unique magnetic wide-format materials are used in a multitude of applications, each custom designed, printed, and easily adaptable.
---